Here are some links and transcripts of reviews we've recently received: 
Criticism: Album Review - Connect Magazine - May 2017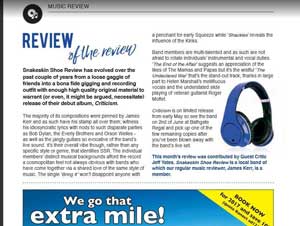 Review of the Review - By Jeff Yates
Snakeskin Shoe Review has evolved over the past couple of years from a loose gaggle of friends into a bona fide gigging and recording outfit with enough high-quality original material to warrant (or even, it might be argued, necessitate) release of their debut album, Criticism.
The majority of its compositions were penned by James Kerr and as such has his stamp all over them; witness his idiosyncratic lyrics with nods to such disparate parties as Bob Dylan, the Everly Brothers and Orson Welles - as well as the jangly guitars so evocative of the bands live sound, Its the overall vibe though, rather than any specific style of genre that identifies SSR. The individual members' distinct musical backgrounds afford the record a cosmopolitan feel not always obvious with bands who have come together via the shared love of the sam style of music. The single Bring It' won't disappoint anyone with a penchant for early Squeeze while 'Shackles' reveals the influence of The Kinks. 
Band members are multi talented and as such are not afraid to rotate individuals' instrumental and vocal duties. The End of the Affair' suggests an appreciation of the likes of The Mamas and the Papas but its the wistful 'The Undeclared War that's the stand out track, thanks in large part to Helen Marshal's mellifluous vocals and the understated slide playing of veteran guitarist Rodger Moffet.
Criticism in on limited release from early May so see the band on 2nd June at Bathgate Regal and pick up one of the few remaining copies once you have been blown away by the band's live set.

Criticism by Snakeskin Shoe Review - Album Impressions by Odd Nugget
Welcome one and all to another album impressions session!
This time, we've the pleasure of dissecting music by "Snakeskin Shoe Review," a genre smashing band hailing from Scotland.
I've been kindly gifted with Snakeskin Shoe Review's album, "Criticism," and am all set to experience it.
Below you'll find my impressions of each of the album's tracks as I dive into SSR's pop-leaning, vintage sound.
Enjoy the ride, follow Snakeskin Shoe Review on Facebook and be sure to pick up a copy of their album HERE ON THEIR SITE.